Model Sarah Zulfiqar Slams Nadia Hussain For Her Recent Statement Against Models
Sarah Zulfiqar is a stunning and one of the famous model of Pakistan. She has been the focal point of a number of major campaigns in the country and continues to raise the bar with charming personality and skills.
Recently, Sarah Zulfiqar turned to his official Instagram handle to slam model Nadia Hussain for her recent statement against models. Nadia Hussain in her recent interview said that the new models don't have a class or personality.
Turning to her official Instagram handle, Sarah mentioned that "Talent is talent and maturity is maturity, no matter where it comes from. This statement is incredibly elitist and ignorant. Be confident in your own talent, posing, style and niche instead of complaining about other people and you'll do just fine."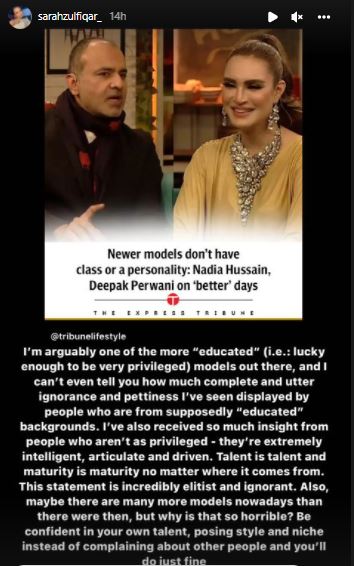 She further added that people should focus on their own decisions and abilities, instead of b-tching others and hating everyone else.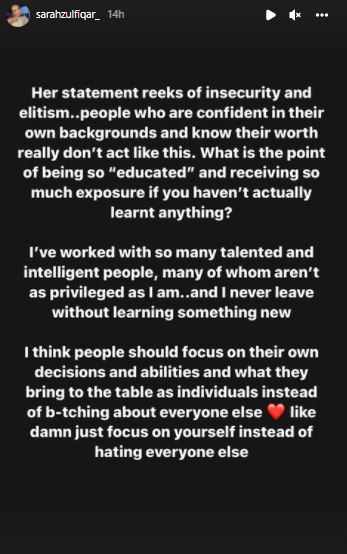 "Maybe if you stopped "lamenting" and actually chose to think critically and evaluate what is literally in-front of you instead of hurling mother-sister insults on your IG live sessions. There are some pretty people nowadays but I highly doubt there were fewer pretty people back in your days, concluded Sarah.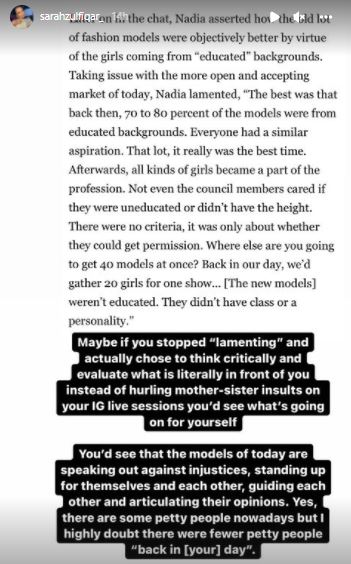 Courtesy: reviewit